Have no idea why this started, but it began a couple of weeks ago (August 2022). Today I finally had enough and had to get a solution, it was driving me bonkers.
Tried all the different options I could find, none seemed to work.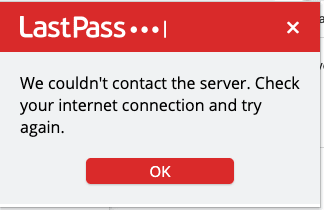 The only thing that worked for me was to "remove" the extension, then reinstall it. Reinstalled by going to the Lastpass download page here: https://lastpass.com/misc_download2.php
From there, clicked the "download" button which took me to the web store. You can probably do the same thing by going directly to the web store:https://lastpass.com/misc_download2.php

Other recommendations I found online included:
Basic recommendation:
Rebooting the machine
Clearing the browser cache
Extension specific recommendations:
Refreshing sites and clearing local cache in the plugin (didn't even know this was a thing):
Click the LastPass icon in your web browser toolbar.
Go to Account Options or click your email at the bottom of this menu > Advanced > Refresh Sites then Clear Local Cache.
Log out and log back in to your LastPass account.
I tried each of these, none of them did the trick. This issue seems to be specific to Chrome, wasn't able to replicate it in other browsers.
For me, the only solution was to uninstall and reinstall. Be aware that doing this can delete any passwords you added while it was having connection issues, although I found that it was still saving even with the warnings.
I don't know, weird shit, but hope this helps.
Thanks